Have you decided what to prepare this Halloween?
Halloween provides the opportunity to bring out our creativity.  From designing costumes, transforming your homes into a haunted mansion or whipping up some delicious, fun and spooky treats.
Here are some festive recipes, using bone broth or broth, to bring out your creativity in the kitchen.
** Try these recipes using our BONED Broth to make them more nutritious and delicious! 🙂
---
Green Goblin Soup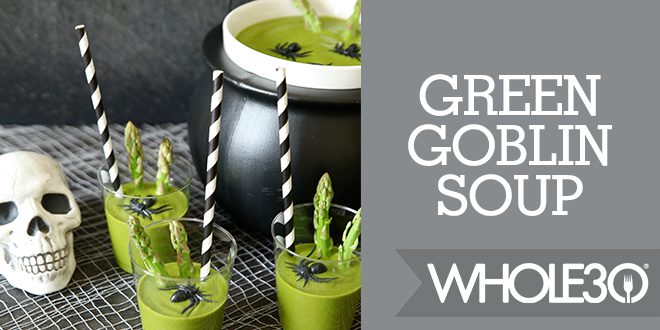 Source Whole30.com
Ingredients
2 Tbs. avocado oil (coconut oil or ghee works fine)
1 medium yellow onion, diced
2 scallions, minced
1 lb. asparagus, chopped (tough ends discarded)
4 cups of spinach
1 avocado, peeled and diced
2 cups of bone broth (chicken, beef or veggies broth works fine)
1 tsp. sea salt
Garnishes
Blanched asparagus spears to use as goblin legs (see recipe note below)
Fresh herbs such as parsley, scallion or cilantro
Freshly ground pepper
Plastic spiders and Beetlejuice straws optional
Instructions
ADD avocado oil to a stockpot and bring to medium heat on the stove. Add onion and sauté until soft, about 3 minutes.
ADD scallion and asparagus and reduce to a simmer, uncovered for 10 minutes.
REMOVE from heat and transfer to a high-speed blender along with spinach, avocado and bone broth. Alternately, place spinach, avocado and bone broth in pot and blend with an immersion blender. Once blended, taste and add salt to taste.
SERVE in clear plastic cups with raw asparagus spears sticking out of each cup.  Add a festive straw as well if you like.
GARNISH with any additional herbs or freshly cracked pepper, or dare to scare your guests with faux spiders crawling over each soup!
---
CREAMY TOMATO SOUP FOR HALLOWEEN
Melt the butter over low heat.

Add the flour in one addition while stirring with a wooden spatula.

Fry the flour 2 minutes, keep stirring, but don't let it brown.

Gradually add the cold broth, while stirring with a whisk, so you don't get any lumps.

When all the broth is add, bring it to a boil.

In a frying pan bake the tomato you 2 minutes (until it smells sweet rather than acidic). Do this so the tomato paste will taste slightly sweet instead of sour.

Add the tomato puree to the broth and pour the sieved tomatoes in.

Bring everything to a boil again and simmer for 5 minutes. Season with salt and pepper.

(Optionally, make small balls from the ground beef and cook them in the hot soup for 15 minutes.)

Ladle the soup into a bowl and take the crème fraïche and use it to make a spiral in the soup (if you have a pouring bottle it makes life a lot easier)

Draw lines from the center to the outside with a satay skewer.

The spiral will form a web pattern in the soup.
---
Swamp Chili (Poblano-and-Spinach Posole)
INGREDIENTS
1 1/2 pounds poblano chiles
1/4 cup extra-virgin olive oil
1 large white onion, finely chopped
1 1/2 teaspoons ground cumin
1 1/2 teaspoons ground coriander
5 large garlic cloves, minced
One 10-ounce package frozen chopped spinach, thawed and squeezed dry
1 quart low-sodium chicken broth
Kosher salt
1 slice of white sandwich bread
1/4 cup milk
1/2 pound ground chicken
1/2 pound ground pork
1 teaspoon pure ancho chile powder
One 15-ounce can white hominy, drained
2 tablespoons chopped cilantro
INSTRUCTIONS
Roast the poblanos directly over a gas flame or under a broiler until charred all over. Transfer the chiles to a bowl, cover with plastic wrap and let cool. Peel, stem and seed the chiles. Transfer to a blender and puree until smooth.
In an enameled cast-iron casserole, heat the oil. Add the onion, cumin, coriander and 4 of the garlic cloves. Cook over low heat until the onion is soft, about 8 minutes. Add the pureed poblanos and cook, stirring, until the mixture thickens, about 5 minutes. Add the spinach and broth and season with salt. Simmer over low heat until slightly reduced and the spinach begins to break down, 15 minutes.
Meanwhile, in a bowl, mash the bread to a paste with the milk. Add the chicken, pork, chile powder, the remaining garlic and 1 teaspoon of salt and gently knead to combine. Roll tablespoons of the mixture into meatballs and add to the chili with the hominy. Simmer until the meatballs are cooked through, about 15 minutes. Stir in the cilantro and serve.
---
Hearty Beef Stew (Ghostly Beef Stew Dinner Recipe for Halloween)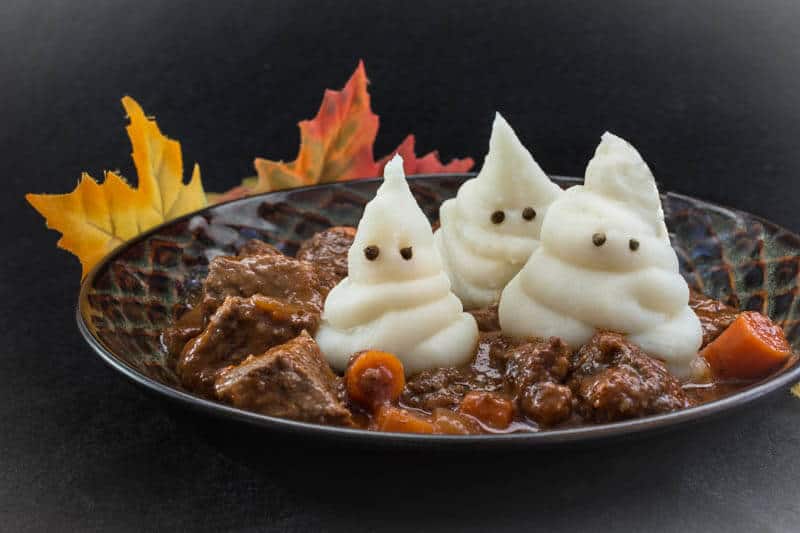 Ingredients
1 1/2 lbs. beef chuck, cut into 1-inch cubes
1/2 cup flour (use wheat/gluten-free if needed)
2 Tbsp. vegetable oil
1 yellow or white onion, diced
1 cup reduced-sodium beef broth
8 oz. tomato sauce
1/2 cup red wine, (or use tomato juice with a splash of balsamic vinegar)
1 Tbsp. Worcestershire sauce
1/2 tsp. salt
1 tsp. dried thyme
3 carrots, peeled and sliced
3 red potatoes, cut into 1-inch pieces
Instructions
Dredge the meat in the flour and reserve 1 Tbsp. of the flour.  Heat the oil over medium heat in a large stockpot and brown the meat in a single layer, flipping it once or twice, until it is almost cooked through, 6-8 minutes.  Reduce the heat if it is getting too brown.
Remove the meat from the pan and add the onions and 1 Tbsp. flour.  Sauté the onions for about 5 minutes until they begin to brown.  Return the meat to the pot and add the broth, tomato sauce, wine or juice, Worcestershire, salt and thyme.  Bring it to a boil, reduce the heat, and cover it.  Simmer it for 45 – 60 minutes.
Add the carrots and potatoes and cover and simmer the stew for 45 minutes more, until the meat and vegetables are tender.  (Meanwhile, warm the bread, if you are serving it.)  Serve it right away or refrigerate it for up to 3 days, or let it cool and freeze it for up to 3 months.
---
Halloween Stuffed Peppers

Ingredients
1 ½ cups cooked brown rice
4 medium bell peppers
¾ pound ground sirloin
1 cup chopped onion
½ cup chopped fresh parsley
1 teaspoon paprika
½ teaspoon salt
⅛ teaspoon ground allspice
1 cup bottled tomato-and-basil pasta sauce, divided
½ cup (2 ounces) grated fresh Parmesan cheese
½ cup chicken broth
Instructions
Preheat oven to 350°F
Wash the peppers. Cut jack-o'-lantern faces into the peppers with a sharp paring knife, making triangle eyes and nose, and pointy-teeth smiles. Slice off the tops of the peppers and scoop out the seeds and cores.
Heat a large nonstick skillet over medium-high heat. Add beef and the next 5 ingredients (beef through allspice); cook 4 minutes or until beef is lightly browned, stirring to crumble. Remove from heat. Add rice, ½ cup pasta sauce, and cheese to beef mixture, stirring to combine.
While beef cooks, combine ½ cup pasta sauce and chicken broth in a small saucepan; bring to a boil.
Spoon about ¾ cup beef mixture into each pepper. Place peppers in a 2-quart baking dish coated with cooking spray; add chicken broth/sauce mixture to pan. Cover with foil and bake for about 35–40 minutes. Uncover; bake an additional 5 minutes.